H-22A-120 HORIZONTAL BAND SAW
H-22A-120 HORIZONTAL BAND SAW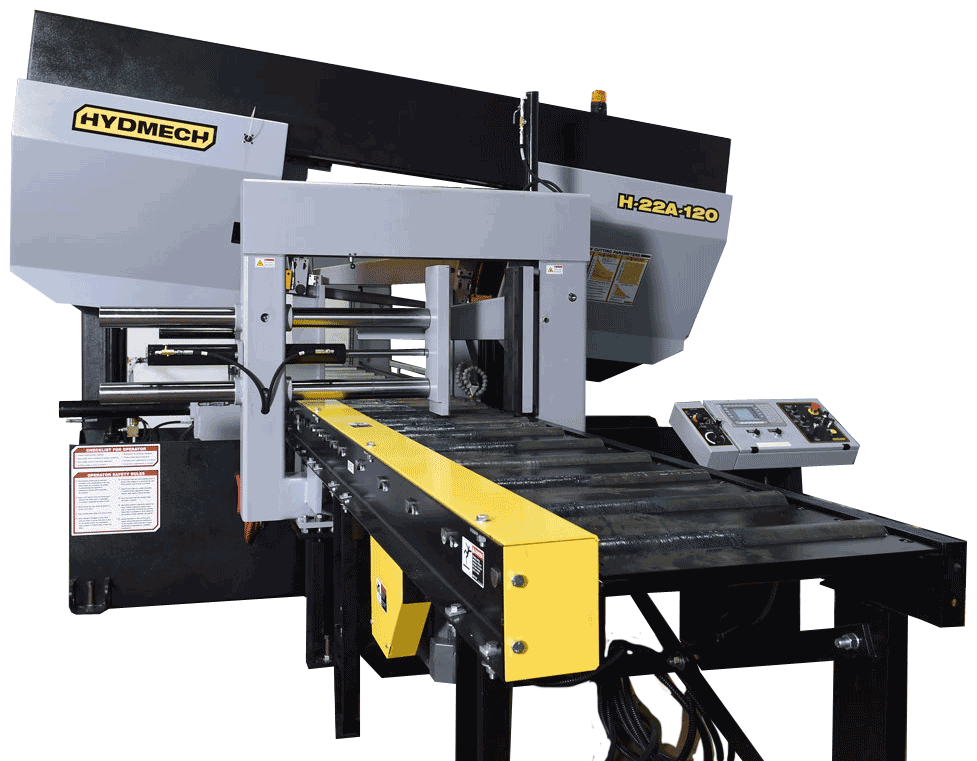 The H-22A-120 is a heavy-duty, automatic, horizontal long bar feed band saw designed to provide exceptional cutting performance in multi-shift, high production environments.
The H-22A-120 is fast, with its high speed shuttle feed indexing up to 120″ in a single movement. Its standard 6° degree canted head allows for more efficient cutting and improved blade life.
Featuring a 20″ x 22″ capacity, 10 HP motor, and 2″ blade, the H-22A-120 is a reliable choice for all your heavy-duty horizontal metal cutting applications.
MACHINE SPECIFICATIONS
Capacity
Rectangular (h x w)
Round
90°
20″ x 22″
20″
Blade Size
2″ x 22′ 6″
Blade Drive
10 HP
Machine Voltage
480 v (208, 240, or 575 v via no charge transformer)
Blade Speed
40-300 SFM
Automatic Multi-Indexing
0-120″
Machine Weight
20,000 lbs
Table Height
35″
Dimensions (w x l x h)
146″ x 192″ x 92″
Capacity
Rectangular (h x w)
Round
90°
508 mm x 508 mm
508 mm
Blade Size
54 mm x 6858 mm
Blade Drive
7.5 kW
Machine Voltage
408 v (208,240, and 575 v with no charge transformer)
Blade Speed
12-91 m/min
 Automatic Multi-Indexing
0-3000 mm
Machine Weight
9090 kg
Table Height
889 mm
Dimensions (w x l x h)
3708 mm x 4876 mm x 2336 mm
STANDARD FEATURES
6 degree canted head

Spilt front vise

Full capacity hydraulic overhead bundling

10' bar feed

Shuttle features automatic multi-indexing up to 120" in a single stroke with automatic kerf compensation. Powered by a rack and pinion servo drive

Steel guide arms. The idler side guide arm is mechanically connected to the front vise moveable jaw for proper guide arm spacing at all times

Hydraulic positive down fee

10 HP VFD. True direct blade drive – no belts/pulleys

Full capacity, full stroking hydraulic vise

High resolution feed rate valve allows for constant feed rate when cutting special alloys

Blade chamber separates material from cut part

Cast iron band wheels

Automatic PLC control programmable up to 999 jobs with 10 in queue

Replaceable blade brush

Robust steel base

Automatic chip removal auger

Easy access electrical panel and hydraulics

Blade breakage switch

Hydraulic band tensioning with digital readout

Hydraulic carbide guide tensioning

Hardened, replaceable wear plates

Safety door interlocks

Flood coolant with wash down hose

Work light

Laser light

Variable vise pressure

Out of stock switch
OPTIONAL FEATURES
Blade deviation

Vertical alignment rollers

Pedestal control

Mist lubrication

Outboard vise

Outboard vise with bundling

Roller discharge table

Idler conveyors

Powered conveyors